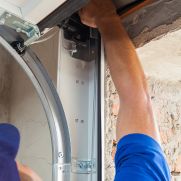 Spring, Cable, Track And Roller Replacement

A properly functioning garage door is vital for the safety and convenience of your home. Nick Garage Door Repair Tarzana offers comprehensive spring, cable, track, and roller replacement services to ensure smooth operation every time.
Over time, springs lose their tension or cables may fray, making it difficult or even hazardous to operate your garage door. Similarly, bent tracks or damaged rollers can compromise overall performance.
At Nick Garage Door Repair Tarzana CA, we understand the importance of addressing these issues promptly. Our experienced team will quickly assess the problem and provide you with a tailored solution that suits your requirements while prioritizing safety and longevity.